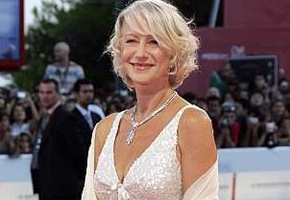 Just a month after that scallywag Russell Brand hosted a well-received episode, a Knight and a Dame will MC Saturday Night Live over the course of two successive weeks. Sir Elton John will host and perform (alongside his collaborator Leon Russell) on April 2, as we previously reported, and BBC News reveals that Dame Helen Mirren (yes, Dame Helen Mirren) will take the reins the following week. Holy Brit-balls, Batman. Is Lorne Michaels angling for a knighthood or something?
With all of these lofty names in their presence, will SNL suddenly become tasteful, with prim parodies of Shakespeare and Masterpiece Theater? We hope not. Dame Helen will likely be absolutely fearless, amping up her "sexy senior" persona, but also demonstrating her live stage chops. (And perhaps Russell Brand, her pal and Arthur co-star, will have given her some pointers.) I have a feeling this could be a classic in the making, if the writing doesn't let her down, of course.
Sir Elton will be harder to peg. His outrageous wit is legendary, but he's not really an actor or comedian. AND he has the herculean task of being both host and musical guest. But sometimes the best SNL hosts are the people you'd least expect to have the skills a.k.a. Justin Timberlake.
By the way, Mr. Timberlake once played the young Elton John in the video for "This Train Don't Stop There Anymore." Maybe he'll pop into 30 Rock for a cameo?
Read More
Filed Under: