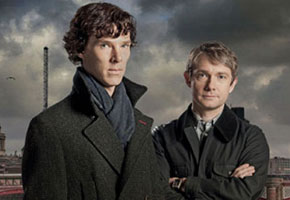 It was a big night for Steven Moffat at the Royal Television Society Awards in the UK yesterday (March 15). The Doctor Who executive producer and lead writer won a Special Judges' Award for his "outstanding contribution to television" and "incredible range." And Sherlock, Moffat and collaborator Mark Gatiss's kinetic reboot of the Arthur Conan Doyle tale, captured the Best Drama Series prize, overtaking Downton Abbey and Misfits.
As the Peabody Award committee does here in the States, the Royal Television Society provides statements supporting their selections in each category. On Moffat, they wrote:
The Judges' Award is given for an outstanding contribution to television, and there are few screenwriters in the world whose work boasts the same incredible range as tonight's recipient. Equally at home with horror, detective stories, situation comedy, action adventure and sci-fi, this year's winner is an author in the truest sense of the word. With a vocation encouraged by his father, his first foray into television arrived in the form of the awarded and still iconic children's drama series Press Gang. (The first and last time he needed a leg-up from anyone but not the last time he would call on a family member for help).
With a clear comic ability and an already-proven knack for seeing the insane and ironic in ordinary life, tonight's winner forged a highly accomplished career in situation comedy during the 90s, paving the way for his most successful original comedy to date, Coupling – regarded by many as a paradigm for near-perfect comic writing and storytelling. Sitcom, it would turn out, was the perfect warm up for tackling two of the biggest icons in British fiction in his most recent works: Sherlock and Doctor Who. Channeling all that he had learned about structure into shaping mind-bendingly brilliant sci-fi and thriller plots, as well as placing a funny man/straight man pairing at the center of extraordinary and impossible circumstances, with his friend Mark Gatiss he invited an entirely new audience to claim Holmes and Watson as their own. And in his downtime reinventing Doctor Who to overwhelming critical and ratings success from the get-go.
There are few writers who would trade Steven Spielberg and Hollywood to work with the Daleks in Wales but this man did. Indeed, with a seemingly inexhaustible resource of utterly distinctive plots and the ability to use comedy liberally to form a devoted connection with the audience, our winner is living, typing proof of why television remains THE writer's medium.
RTS, citing Sherlock's win for Best Drama, wrote, "Updating a classic was a daunting task but the bravura of this production's writing and directing successfully made it feel new and modern. This was one of the most original and entertaining new series for years."
Oscar winner Jim Broadbent grabbed Best Actor for his role in Channel 4's Any Human Heart, defeating former Doctor Who star David Tennant (who was up for the BBC mini-series Single Father). 
Miranda Hart, who BBC America viewers know from her role on Not Going Out, scored a victory in the Scripted Comedy category for her self-titled show, Miranda. She also won for Best Comedy Performance.
Here's the full list of winners:
Entertainment
The X Factor A talkbackTHAMES and Syco TV Production for ITV1
Scripted Comedy
Miranda BBC Productions for BBC Two
Arts
Alan Bennett and the Habit of Art A Lone Star/National Theatre Production in association with Arts Council England and More4
History
The Secret Life of the National Grid BBC Productions for BBC Four
Science & Natural History
Wonders of the Solar System BBC/Science Channel co-production for BBC Two
Single Documentary
Between Life and Death BBC Productions/BBC Wales for BBC One
Documentary Series
Welcome to Lagos KEO north for BBC Two

Features and Lifestyle Series
Pineapple Dance Studios Pulse Films for Sky1HD
Nations and Regions Programme
Breaking the Silence Tern TV for BBC One Northern Ireland
Children's Programme
Horrible Histories Lion Television in association with Citrus for CBBC
Children's Drama
Sarah Jane Adventures BBC Productions/BBC Wales for CBBC
International Award
True Stories: The Cove Vertigo Films for More4
Daytime and Early-Peak Programme
The Indian Doctor Rondo Media and Avatar Films for BBC One
Soap and Continuing Drama
EastEnders BBC Productions for BBC One
Presenter
Professor Brian Cox – Wonders of the Solar System BBC/Science Channel co-production for BBC Two
Actor (Male)
Jim Broadbent – Any Human Heart Carnival Films for Channel 4
Actor (Female)
Vicky McClure – This is England '86 A Warp Film for Channel 4
Single Drama
The Road to Coronation Street ITV Studios for BBC Four
Drama Series
Sherlock Hartswood Films for BBC One
Drama Serial
Five Daughters BBC Productions for BBC One
Writer – Drama
Jack Thorne and Shane Meadows – This is England 86′ A Warp Film for Channel 4
Writer – Comedy
Jo Brand, Vicki Pepperdine & Joanna Scanlan – Getting On Vera Productions for BBC Four
Entertainment Performance
Anthony McPartlin and Declan Donnelly – I'm a Celebrity…Get Me Out of Here! / Britain's Got Talent ITV Studios for ITV1 / a talkbackTHAMES and Syco TV Production for ITV1
Comedy Performance
Miranda Hart – Miranda BBC Productions for BBC Two
Judges' Award
Steven Moffat, showrunner Doctor Who

Lifetime Achievement Award
Peter Bennett-Jones, founder Tiger Aspect
Read More
Filed Under: