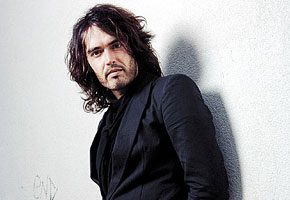 Hey remember we said last week that Russell Brand was filming a long and involved interview with Piers Morgan for the new series of his ITV show Piers Morgan's Life Stories? Well the filming's all done now, and as you probably could've expected, some of the quotes are starting to filter out to the press .
Most notably, Russell's take on married life with Katy Perry, after years of shameless crumpeteering, is actually rather sweet, as if he's just stumbled on an essential truth for the first time (even though it's one that a lot of people kind of already knew).
He said: "It's difficult getting used to one person and being in the same house every day. See, if she leaves stuff lying around I have to deal with it. And if I leave stuff on the floor I have to pick it up. That confuses me."
"And she takes ages to get ready. It's unbelievable. I had no idea what went on, I was never normally around for that bit."
And he took the time to address some of the more outlandish press rumors around the state of his marriage, adding "it's not true we see a marriage counselor. I don't know where that story came from. We don't pay any attention."
Oh and as for the pitter-patter of tiny comic/popstar feet? Well, bring it on! "Yeah children, that'd be good, wouldn't it? We haven't been married very long, we're both working very hard and I'm still excited and enchanted by her but when we do I'm going to focus on it."
Here's the grand finale, tissues at the ready? Let's go: "I've never been in love before Katy, and now I rate love as being willing to change for someone."
Piers Morgan's Life Stories will be on ITV next month.
Read More
Filed Under: