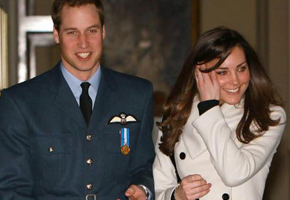 Kate Middleton will be a military bride when she walks down the aisle on April 29. Prince William has expressed wishes to see the front lines of war, but is this even possible for a man who will one day be King? BBC royal correspondent Peter Hunt looks at the history of the royals and their military service. (Follow Mr. Hunt on Twitter.)

"I still have hope and faith and a real determination to go out there," Prince William declared in a recent interview. The focus of his desire is Afghanistan and a role on the front line. If his wish was granted, he'd be following in the footsteps of Prince Harry.
The younger brother served there, in secret, for two-and-a-half months in 2008. The BBC and other British media organizations agreed not to report his deployment to protect his safety. Harry was brought home early after it leaked out that he was in Helmand province and occasionally patrolling close to the Pakistan border.
But will William's dogged desire be realized? The public signs, so far, are not promising. The Chief of the Defence Staff, who is in charge of the Army, the Navy, and the Air Force, has gone on the record to say he didn't think the second-in-line to the throne was sufficiently trained and his feeling was, at present, William should not go.
The prince's stumbling block is his proximity to the throne. His great-great uncle faced similar problems during the First World War. Long before Bessie Wallis Simpson from Baltimore came on the scene — she dropped Bessie as her first name because she thought too many cows were also called Bessie — the Duke of Windsor was struggling to find a meaningful role while his countrymen fought and died.
The Duke recorded in his memoirs that, "It took me a long time to become reconciled to the policy of keeping me away from the front line. Manifestly I was being kept, so to speak, on ice, against the day that death should claim my father." And at another point he wrote, "I was only 21, and I believe it will not be misunderstood if I confess how often I deplored my status at this time: Oh! Not to be a prince."
If Prince William has had such thoughts, he has kept them to himself. His focus is his work as an RAF search-and-rescue pilot and, of course, his marriage. On his wedding day, he'll wear a military uniform. It could well be an Air Force one, but William, given his unique status, also retains commissions as an officer in the Royal Navy and the British Army.
Once married, the couple will live on Anglesey, in North Wales. William will work with other RAF pilots rescuing those who've gotten into difficulties at sea, on mountains, and in other challenging locations. Away from the military base, he'll live with his new wife in a remote rural property.
Anglesey has many attractions for William and Kate. Its population has left them alone to live their lives, and its location is a long way from the London based reporters and photographers who make a living out of the royal family. It is no coincidence that the bride and bridegroom-to-be chose the Welsh island as the setting for their first high profile engagement together when, last week, they launched a lifeboat.
Prince William's day job is a reminder of the links which bind the monarchy and the military. His grandmother, the Queen, who is Head of the Armed Forces, is the only person to declare war and peace. However, it's a power which can only be exercised on the advice of government ministers.
Her predecessors had no such restrictions placed upon them. King Harold, of course, died in 1066, on the battlefield. His successors saw the merits of viewing proceedings from a safer distance. The last British sovereign to have seen action in battle was the present Queen's father, King George VI (famous played by Colin Firth in The King's Speech). The Duke of Windsor's younger brother — who, before the abdication crisis, wasn't meant to inherit the throne — fought in the battle of Jutland in 1916.
Three decades later, his daughter, Princess Elizabeth had her first ever experience of mixing with "ordinary" people when she joined the women's branch of the British Army, known as the Auxiliary Territorial Service. It was towards the end of the Second World War and she took part in a car maintenance course. Many years later, the Queen confided in a politician that she had enjoyed her brief time in the ATS because it had been the only occasion in her life when she'd been able to test her abilities against others of her own age.
This tradition of royals experiencing military life has continued. Prince Charles commanded a Royal Navy minesweeper, despite the fact that, according to one biographer, he struggled with navigation; Prince Andrew served as a helicopter pilot in the Falklands War; and Prince Edward started, but never finished, officer training with the Royal Marines.
Nonetheless — just like his sister, Princess Anne, who hasn't undertaken military service — Edward does hold several appointments in the forces. He is, for example, the Royal Honorary Colonel for the Royal Wessex Yeomanry.
The vexed issue of deploying a senior royal in a war zone will arise again at the end of this year. Prince Harry will have finished his Apache helicopter training and military chiefs will have to decide whether or not it is safe for the third-in-line to the throne to return to Afghanistan.
Harry may well be granted his wish. But, despite his "determination, hope, and faith," his older brother, William is less likely to ever be sent there. The fear is that active service might stop the prince fulfilling his destiny as a future King.
Read More
Filed Under: