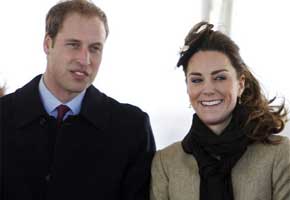 How can Prince William and Kate Middleton maintain their current popularity and become successful monarchs?
In Modern Monarchy: Do's and Don'ts, to be broadcast by BBC America on March 29, we look at exactly this issue. As the show's anchor Katty Kay explains, "William and Kate must understand what the British public wants from them and follow a set of critical and unwritten rules." Ah, but what are those elusive rules? The British public can be notoriously hard to please.
The social commentator Peter York is definitive on the topic of what the Brits are looking for in their royals: "They want them to be grand when it's called for, to represent something very ancient, but what they don't like is the Euro royal look… very fashionable, very done up, all covered in sashes and medals… to a British eye you look completely ridiculous. So being a fashion plate is a wrong thing for a British royal person — it's worrying."
Except of course for that royal aberration, Diana, Princess of Wales, who could sport a Versace above-the-knee dress with the best of them. In Peter York's view, Diana was very divisive. "She introduced emotionalism of a kind that the royal family hasn't observed in public for a very long time," says York. "She talked about her feelings in what is an American way… She contacted people on newspaper diaries, and in that sense was not stiff-upper-lippy. Some people loved it, and others worried about it."
So if Diana isn't the ideal role model for Kate, who should she look to? The Queen has done an exemplary job of retaining the British public's respect since her coronation in 1953, with the exception of the low point just after Diana's death when she was criticized for not responding adequately. Kelvin McKenzie, a former tabloid newspaper editor, says; "My main piece of advice to Kate is to keep the same air of mystery that she has today. She should look at [the Queen] and say, 'How has she ended up like that?'"
Being frugal is another way to endear yourself to your subjects. Kate and William have already made it clear that they want their wedding to reflect Britain's current age of austerity, in which the government is making significant cuts in public spending. The Queen's not one for showy personal consumption, despite her personal wealth. As Kelvin McKenzie notes, this economizing sits well with the British. "She's clearly very 'parsimonious.' She doesn't spend five dollars when she can spend a nickel. The truth is she sits there in front of the television with the plastic tray eating a very Spartan meal. That's a phenomenal thing to be when you think of all the wealth she could wallow in — they like her for it."
Laura Trevelyan is a BBC correspondent based in New York.
Read More
Filed Under: