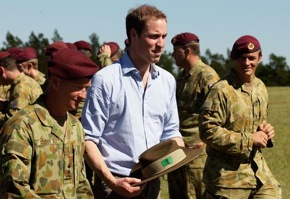 Prince William will visit Australia and New Zealand from March 17 to March 21, The Press Association reports. Kate Middleton will remain in London. William will begin his visit in Christchurch, New Zealand and will attend a national memorial service for victims of the recent earthquake. He then moves on to Australia, where he will visit townships affected by Cyclone Yasi and flood-ravaged regions of Victoria. William was last in both countries in January 2010.
In other royal-related news:
– Ikea is definitely out as the furniture maker of choice for Kate and William's new home. The couple has chosen Beverly Hills designer Kenneth Bordewick to plan the interior of their 4,000-sq.ft. farmhouse on Anglesey, an island in North Wales. Bordewick, no commoner himself, volunteered for the job, he told RadarOnlne.com. "I called Prince Charles directly when I heard that William and Kate were getting married. I played polo against Charles years ago and we became friends," Bordewick said. The designer is set to meet with the couple next week and knows they want a "casual and contemporary" look for their home. As for the bedroom, Bordewick said, "The master suite is going to be lovely for Kate. I like to make a woman's boudoir her sanctuary. It needs to be feminine, young and sexy." The designer also noted that "Kate loves to cook" and that the kitchen will be filled with "American-style appliances." Bordewick has also worked for Michael Jackson, Mariah Carey, and Sir Paul McCartney.
– Displaying her latest fashion collection in Paris, Sarah Burton, the rumored wedding dress designer, managed to both fuel and perhaps permanently kill all reports that she is the chosen one. The site of her show was clever. It was at the Conciergerie, the Paris prison that held Marie Antoinette before she faced the guillotine, The Guardian reports. Burton cited "an ice queen" as the inspiration for the show, which won rave reviews. "We started with a regal, noble woman, but a woman who is romantic above all," Burton said after the show. "Like a princess?" she was asked. "I'm not doing it. It's just a stupid story. Next week it will be someone else – Bruce Oldfield, Stella McCartney. It's silly," Burton replied. Perhaps this will end this week's fevered speculation that Burton is the wedding dress designer.
– Kate's former piano teacher has written a love song to celebrate the royal nuptials, The Reading Post reports. Daniel Nicholls, who lives near Kate's childhood home, taught her piano from age 11 to 13. "Nobody expected her to be a concert pianist, but she was good and always did as she was asked," Nicholls recalled. The piano teacher's song for the wedding is "A Song for Kate (and William)." The piece consists of the words of the poems "How do I Love Thee" and "O Lyric Love" set to music as a "love duet."
– For those not lucky enough to be inside Westminster Abbey or Buckingham Palace, Hyde Park will be the center of the wedding festivities, reports the London Evening Standard. Officials expect a crowd at least 200,000. They'll be able to watch the wedding on giant TV screens, and the park itself will have "fairground attractions." One of them will be similar to a Ferris wheel, giving riders a panoramic view of the scene.
Read More
Filed Under: