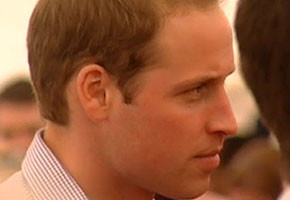 With 1,900 people invited to your wedding, there's always room for one more. When Prince William was in Queensland, Australia consoling flood victims over the weekend, he shook hands with 10-year-old Zander Locke. The boy was so impressed, Locke said he would never wash his hand again. That prompted William to invite Locke to his wedding, an account his parents confirmed to The Chronicle (Queensland). Then there's the small matter of transportation. "If we could win the lottery, I can make it," Locke said. BBC News has video of William in Queensland.
In other royal-related news:
• The latest purveyor of wedding merchandise is none other than Prince Charles, The Daily Mail reports. The online store for Highgrove, Charles's nine-bedroom, 900-acre country estate, is selling a jigsaw puzzle to celebrate Kate and William's wedding. The 250-piece puzzle measures 36 x 25 cm (14.2 x 9.8 inches) and sells for £29.95 ($49.00). The puzzle is one of Kate and William's official engagement photographs. Kate and Will stand arm-in-arm, with Kate wearing her now-famous blue wrap dress, her engagement ring easily visible. The wood puzzle comes from "forests managed on a sustainable basis." Profits from Highgrove sales go to Prince Charles's charities.
• There's some sensible speculation about who will bake the royal wedding cake. There were many erroneous reports that the Welsh National Culinary Team was baking the wedding cake, but their creation will be donated to charity. Andrew Davidson's Classic Celebration Cakes, which has supplied cakes for royal weddings for nearly 40 years, has long been out of the running. The Telegraph asks if the baker is Dawn Blunden of Sophisticake, which bills itself as "Cake Maker to Royalty." Blunden crafted the cake for Prince Charles's marriage to Camilla in 2005. The traditional fruit cake weighed 238 lbs., measured 93 x 12 inches, and was soaked in 20 bottles of brandy. Blunden's most notable creation is the cake she baked for Charles's 60th birthday in 2008. The 20-inch square cake was a replica of Charles's walled garden at Highgrove, including trees, topiary and a fountain in the center. If nothing else, Blunden knows what to say when asked if she's working for the royals. "I'm afraid I couldn't tell you if I was making the royal wedding cake," Blunden replied. "One has to be very discreet when working for the royal family."
• Wedding or no wedding, it will be lights out at midnight at Buckingham Palace April 29. The fact that the Palace will be bathed in darkness the night of the royal wedding is causing no small amount of consternation for foreign broadcasters, who want to use the landmark as a backdrop. Because of time differences, their broadcasts may air after midnight London time. "You'd think the Palace could bend the rules for such a special occasion," one "insider" tells The Express. "It's only one night. Everyone wants to give the wedding the best coverage possible, but it's hard to do that if Buckingham Palace can't even be seen in the background." As far as the Palace is concerned, they are already doing broadcasters a favor by keeping the exterior lights on an extra hour. "There are a number of reasons for switching off," a Palace spokeswoman says. "Quite a few residents have windows facing The Mall so, because of that and environmental concerns, they cannot stay on any longer."
• Talk about a royal snit. Sir Peter Maxwell-Davies will not be watching Kate and William's wedding. Sir Peter is Master of the Queen's Music, more informally known as the Queen's composer. His job is to write music for noteworthy royal events. Yet last week when the royal wedding music was announced, Sir Peter's name was not on the list. "I'm fine about it really," he told The Telegraph. "My office was contacted and put on standby. I am the Queen's Master of Music, but nothing was confirmed." He will skip the event nonetheless. Sir Peter's absence is Kate and William's loss. He ranks "among the world's most eminent composers" and is "a leading cultural figure" of "world standing." Or at least that's how Sir Peter's website describes him.
• You know who you are. You're a member of Kate and William's extended social circle, but were overlooked when it came to wedding invites. They're known as NFI's — "not flippin' invited." According to The Daily Telegraph, the NFI's can gather at an all-day street celebration April 29 thrown by Mahiki, one of William's and Prince Harry's favorite haunts. Of course, decorations will come from Party Pieces, the online party supply firm owned by Kate's parents. Among the more prominent NFI's are Virgin heir Sam Branson, whose sister will be in Westminster Abbey, and Dave Clark, longtime boyfriend of Princess Beatrice (William's cousin), who was invited to the ceremony, but not to the Buckingham Palace dinner reception.
Read More
Filed Under: