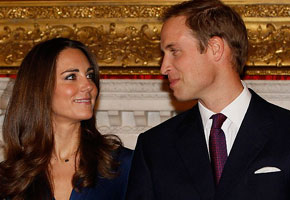 Prince William and Kate Middleton have long maintained that people should donate to charity instead of giving wedding gifts. Yesterday (March 15), they announced a fund that will collect donations to 26 charities, The Guardian reports.
"Many of the charities are little known, without existing royal patronage, and undertake excellent work within specific communities," reads a statement issued by Clarence House. "They are charities that have a particular resonance with Prince William and Miss Middleton and reflect issues in which the couple have been particularly interested in their lives to date." A special website has been created for The Prince William & Miss Catherine Middleton Charitable Gift Fund. Donations will be held in a special account by the Foundation of Prince William and Prince Harry.
In other royal-related news:
• BBC News reports that Claire Jones, the royal harpist, will entertain guests at the Buckingham Palace wedding reception. "It's a fantastic feeling and I am so honored and so very excited I will be there on their special day," Jones said. "It will be a fantastic memory and a big story to tell my family in future generations to come." Jones was appointed official harpist to Prince Charles, William's father, in 2007 and regularly plays for the royal family. Also performing at the wedding are the Westminster Abbey choir, the Chapel Royal Choir, the London Chamber Orchestra and the Fanfare Team from the Central Band of the Royal Air Force. Christopher Warren-Green, music director of both North Carolina's Charlotte Symphony and the London Chamber Orchestra, will conduct the LCO's 39 musicians in the organ loft of Westminster Abbey, according to The Hamilton Spectator.
• With William off on his trip to Australia and New Zealand, Kate spent some time Tuesday (March 15) with her future in-laws. Kate went to the Royal Ballet's performance of Alice's Adventures in Wonderland with Prince Charles and Camilla, his wife, People magazine reports. Kate sat in the royal box between the couple. Most people did not even realize she was in attendance until the cast curtsied to the royals.
• If the Hyde Park Corner Tube (subway) station is gleaming on April 29, thanks will go to lawbreakers. Offenders sentenced to community service are now cleaning the station near Westminster Abbey, BBC News reports. Westminster Council's city management councilor Ed Argar said the scheme was a "great example of how those that cause problems for society can give something back to the community. We know come 29 April the eyes of the world will be upon us and we want to make sure the city offers the best environment possible."
• The royal wedding may be steeped in tradition, but it is also going high-tech. Canadian developer 2 For Life Media is offering a free royal wedding app, shinyshiny.tv reports. "From a special feature about the couple's unique love story and its effect on the British monarchy to a fun shopping guide for official—and unofficial!—souvenirs, we've created an entertaining and info-packed app for all to enjoy," 2 For Life says. The app is available on iTunes. Microsoft's wedding offering is a composite poster of Kate and William made up from hundreds of submitted wedding photos. Sales of the poster will be donated to charity. The purpose of the poster is to show off Microsoft's new photo software, techradar.com reports.
• Much has been written about Kate's role as a fashion icon. When Zara Phillips, Prince William's cousin, attended the first day of the Cheltenham Festival, a series of horseraces, the outfit she wore was remarkably similar to what Kate wore on her trip to Belfast. Like Kate, Phillips wore an above-the-knee trench coat, black tights and black suede shoes. "Zara takes a style leaf out of Kate Middleton's form book at Cheltenham," The Daily Mail remarked.
Read More
Filed Under: