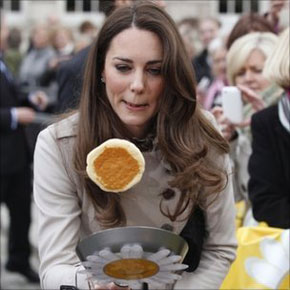 Prince William and Kate Middleton are in Northern Ireland this morning (March 8), BBC News reports. The trip is William's first royal visit to Northern Ireland and the first time Kate has been there. Kate wore a "double-breasted mink-colored belted coat with a frill at the base, black opaque tights and black high-heeled shoes. William wore a navy suit," the BBC reported. Kate also showed her skills with a frying pan by flipping a pancake in front of a cheering crowd in Belfast. The visit is scheduled to last one day.
In other royal-related news:
– Last night (March 7), William, Kate and Prince Charles went to Westminster Abbey to hear some of the music that will be played at the wedding, The Daily Express reports. The trio arrived in Charles's dark-blue Jaguar at about 8 pm, and they left about 75 minutes later. They heard music from a full orchestra and from about a dozen young choristers wearing black velvet cloaks who paraded into the Abbey in formation. Kate and William are relying on Charles's advice. "He has always taken a close interest in classical and church music. They have sought his advice and involved him in the decisions," said a royal source.
– When it comes to selecting a wedding dress, most brides consult family and friends. When you're Kate Middleton, you ask the editor of British Vogue. The Telegraph reports that shortly after her engagement was announced last year, palace officials asked for recommendations from some of the UK's top stylists and fashion editors. Among them was Alexandra Shulman, who has edited British Vogue since 1992. Shulman suggested the Alexander McQueen label. As everyone knows by now, that label is lead by designer Sarah Burton. Shulman's recommendation may have only confirmed Kate's preferences. She reportedly was impressed with Burton's wedding dress design for Sara Buys, who married Tom Parker Bowles, the son of the Duchess of Cornwall (Charles's wife), in 2005. In a sure sign that many believe the reports that Burton is indeed the dress designer, bookmakers have dropped the odds on Burton from 14:1 to 1:20.
– One would think students at Marlborough College, where Kate went to boarding school, would have plenty to celebrate on April 29. Like the rest of the nation, one might think they get the day off. Instead, students will have classes in the morning and have been warned to be on their best behavior for the expected deluge of camera crews. "It is likely we are going to have to play games and walk around smiling in the background of shots," one student complained to The Daily Mail. "Many students are fuming as they would rather have the day off like everyone else instead of being used as scenery." Scenery does not come cheap. Tuition at the Wilshire school is £29,310 ($47,400) per year.
– Perhaps one of the more unusual gifts for the newlyweds comes from Jerusalem. An Israeli graphic artist has designed a special scroll with vows in English and Hebrew, according to The Jerusalem Post. Although it is not a ketubot, the traditional Jewish wedding contract, the scroll's language is similar. It reads, "As beloveds and friends, we promise to love, honor, cherish and support each other. May we be ever open and honest." In what may be the understatement of the year, the paper notes, "To the best of our knowledge, neither the bride nor the groom have any links to Judaism."
– Although it would be hard to tell from the wall-to-wall coverage in the British press, many citizens in the UK are not interested in the royal nuptials. BBC News Magazine looks at those less than enthused by a royal wedding — which is a larger group than American "royalists" may suspect. Citing one poll taken last November, the BBC reports that nearly 60 percent of respondents "couldn't care less" or were "largely indifferent" to the royal wedding. The piece cites British curmudgeonly comedian Arthur Smith who says, "I don't care about my friends' weddings, never mind theirs." More seriously, while the royal family may not disappear any time soon, 57 percent of Britons believe the monarchy must modernize more quickly.
Read More
Filed Under: