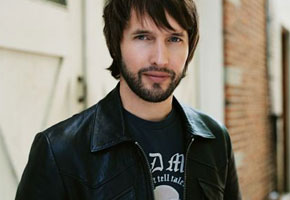 British pop singer James Blunt, famous for his ballad "You're Beautiful," has announced that he will play organ at the royal wedding. "I'm actually playing. I'm not singing, I'm playing the church organ there," the Johannesburg Times reports. Blunt, 37, has the type of background likely to appeal to Prince William. Blunt, like many of his ancestors dating to the 10th century, served in the military. Among other assignments, he served in Kosovo and stood at the coffin of the Queen Mother (William's great-grandmother) at her funeral in 2002. One of Blunt's charitable causes is raising funds for wounded British soldiers.
In other royal-related news:
– After a flurry of stories that Kate Middleton has lost weight, the convenience store owner in her hometown has come forward to reveal that she has a sweet tooth. Shopkeeper Hash Shingadia tells the Daily Mail that Kate pops in twice a week to buy Haribo candies when she stays with her parents. "Kate loves Haribo Starmix — they're her favorites — and Tangfastics," Shingadia says. Starmix are roughly equivalent to gummy bears, and Tangfastics are a sugar-coated jelly candy. Other celeb Haribo fans include Justin Bieber (Sour Strawbs) and Cheryl Cole, according to the Cape Town Independent. Shingadia is one of the locals invited to the wedding.
– If spending $8,000 on accommodations for the wedding weekend seems a tad steep, perhaps $121 is more your style. BBC News reports that Clapham Common in south London could be turned into a campsite for 10,000 people. The fee entitles campers to hot showers, toilet facilities, 24-hour security, a quiet zone, and a family zone. There will even be an area for "luxury campers" who will live it up in 18-ft. tepees equipped with sheepskin rugs and tables. "We hope that this affordable option will appeal to people who thought they couldn't afford to join in the fun," said Dan Cotter, a spokesman for Camp Royale, the organizer of the event.
– There has been some confusion about the royal wedding cake. Some organizations have reported that the cake will be made by the Welsh National Culinary Team. Although the Team has received Prince William's approval, their cake will be donated to charity. One cake that definitely will not be served to the guests at Buckingham Palace was created by Michelle Wibowo. She spent 80 hours constructing a cake that is a bust of Kate and William, BBC News reports. The cake is constructed out of 23 lbs. each of marzipan and sugar. Trained as an architect, Wibowa has won many awards for her cake designs, including this creepily realistic cake of an infant (scroll down for video at link).
– The British press was aghast when William showed up for lunch Sunday (March 13) at an exclusive London dining club wearing "trainers," which in the U.S. are known as sneakers. The rest of William's outfit was khakis. blue sweater, and blue button-down shirt. "Don't you own any shoes, William?", the Daily Mail asked. His lunch companions were Kate and her sister, Pippa. As usual, Kate's outfit met with approval: "Kate, 29, looked elegant and smart in fitted brown jacket over a black skirt and shirt and brown kitten-heeled shoes."
– Connecticut's Shoreline Times runs a lengthy piece about Kate and William by "professional astrologer" Beth Rigott. Although most of the piece is impenetrable to the uninitiated, Rigott dispenses some wise advice for any couple. "Both Capricorn [Kate] and Cancer [William] when stressed feel very unappreciated," Rigott writes. "Their marriage depends on successfully navigating this challenge. If they do they have a better shot at it than most to be happily ever after."
Read More
Filed Under: