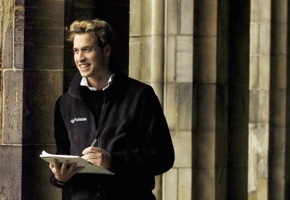 Ah, the life of a young prince. Away at college, nothing like stopping by one of the fancier local bars and knocking back a cocktail of … fruit juice? So reports Scotland's Daily Record. The paper reveals that when Prince William was at St. Andrews, he stopped by the bar at the Fairmont Hotel two or three times a week. Bartender Graeme Dawson says William usually ordered a libation of orange and grapefruit juice, passion fruit and pineapple. "William and Kate visited together and he would order non-alcoholic fruit cocktails — I think he was trying to keep healthy when he was here," Dawson says.
In other royal-related news:
• While some will be eyeing Kate's dress on the wedding day, others will be staring at her bouquet. The Boston Herald speaks to some local florists for their predictions. Although they're rooting for Kate to have some colored flowers in her bouquet, as a practical matter, the only choice is white. "She's done all the right things," said Tori Samuel. Cascading bouquets are de rigueur at royal weddings. But will Kate have a lengthy cascade like the late Princess Diana, or something more modern? As Royal Roundup readers know, Kate will have three identical bouquets on her wedding day to protect against loss or wilting.
• The problem with a democracy is that sometimes you lose. A while back we wrote that Betty Crocker was asking visitors to its website to vote on one of four cakes they had cooked up for the royal wedding. The theme was "something old, something new, something borrowed, something blue." Our choice was the "something old" cake, which was suspended from the ceiling. Well, the people have spoken. Their choice was the "something blue" cake. We demand a recount.
• Speaking of cakes, there's been a development that may – or may not – supply a clue as to the identity of the royal baker. There was speculation earlier this week (March 21) that Dawn Blunden would craft the royal dessert. Not only has Blunden worked for the Windsors before, she was coy when asked if she had any role in the wedding. Now Blunden has unveiled work for another client, and it could cause some to believe that she is not the royal baker after all. To kick off the city's wedding celebration, Blunden made a cake for Visit London, a tourism promotional group. The 4-foot high cake is a replica of the steeple and spire of St. Bride's church. Why St. Bride's? For the answer, you have to go all the way back to an 18th century baker's apprentice named Thomas Rich, who surprised his bride on their wedding day with a confection in the shape of St. Bride's steeple. Thus the tiered wedding cake was born. If Blunden has time to work for Visit London, does she have time to work for William and Kate? On the other hand, with that work out the way, perhaps she can now devote all of her energies to the royal wedding. Here's an interesting video of Blunden explaining the St. Bride's cake:
• One group of people is thoroughly enjoying all the wedding hoopla: pottery factory workers in Stoke-on-Trent. They're the manufacturers of the official royal commemorative china. To cope with demand, the factory has increased payroll by 50 percent and is working six days a week. "I'd like a royal wedding every year," one worker said on a video posted on The Daily Telegraph. Royal protocol demands that the company not be named.
• Want to throw a street party but be ecologically correct? Website theecologist.org is filled with ideas. Don't use chemical dyes on your cake; use organic edible gold leaf ($39.00). Serve food on bagasse plates. Bagasse is a biodegradable waste fiber from sugar cane processing. Forget buying party supplies at the Middleton's Party Pieces, shop at eco-friendly Little Cherry instead. Even your clothes can be eco-friendly, from a $2,350 Stella McCartney citrus print silk-satin dress to a $200 Poppy Liberty print number. Of course, the best way to consume food is to grow your own. That's why Gardening Express has put together a "Patriotic Potato Collection" to honor the royal wedding. For $10, you can get four seeds each of Highland Burgundy Red, Salad Blue, and British Queen potatoes reminiscent of the Union Jack (not the American flag).
• Now that you've had an eco-proper street party and planted your potatoes, it's time for some online bingo. And 888ladies.com wants to make sure you put those winnings to good use. "Thanks to Prince William and Kate Middleton's upcoming nuptials, we have an extra bank holiday to look forward to. The royal wedding will no doubt draw media from across the world, but some of us will be more keen to focus on our own big day," the website says. "If you've been lucky enough to net some bingo winnings and are getting hitched this summer, it might be worth using those online cash prizes to create your dream wedding."
Read More
Filed Under: