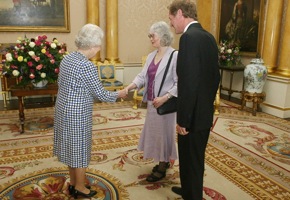 Just about the last place you want to commit a faux pas is at a royal wedding. BBC News has come to the rescue, publishing an etiquette guide. First, you need to get the royal rank straight. In ascending order, it's Baron (Baroness), Viscount (Viscountess), Earl (Count or Countess), Marquess (Marchioness) and Duke (Duchess). Don't be a rube when you meet the Queen and overdo the bow or curtsy. "This can be the subject of some amusement in royal circles." Ladies should "make a brief bob with the weight on the front foot." Gentlemen "should opt for a small nod, and look down briefly." Please don't take your camera to the palace, even though you're desperate to show the folks back home you were there. "A spokesperson for Buckingham Palace said that at all royal events the use of personal cameras is discouraged," the guide notes.
• You should also know royal wedding history. BBC News has a handy chart listing major royal weddings since 1923. It lists who made the wedding dress, what the groom wore, notable gifts and memorable quotes. One memorable quote: "Ma gnikniht oot hcum." That's Elizabeth Bowes-Lyon, later known as the Queen Mother, using mirror code in her diary before her 1923 wedding to Prince Albert, later George VI. The translation reveals her hesitation before marrying into the royal family: "Am thinking too much." And when Princess Anne married Captain Mark Phillips in 1973, the wedding cake was 5-feet 6-inches, the height of the bride. BBC News also has a story on royal wedding history and a blog entry on the history of royal wedding menus. For example, when Victoria married Prince Albert in 1840, one of their several cakes weighed more than 300 lbs.
In other royal-related news:
• In the contemporary world, Forbes magazine adores lists of all kinds. They've reviewed the known invitees and determined who appears on their various lists. From the "Richest Royals" list are: Prince Albert of Monaco, the King of Saudi Arabia (who also ranks #3 on the magazine's list of the world's most powerful people), Crown Prince Willem-Alexander (his mother, Queen Beatrix of the Netherlands, is on the "Richest Royals" list), the Sultan of Oman, and the Sultan of Brunei. Among the "Most Powerful Women" is Julia Gillard, prime minister of Australia. Of course, another royal who appears on both the "Most Powerful Women" and "Richest Royals" lists is Queen Elizabeth.
• At last, a piece of royal wedding memorabilia that's both practical and portable: Pez dispensers with the heads of Kate and William. Pez is made by an Austrian company, and according to its blog, the one-and-only pair of Kate and William dispensers will be auctioned on eBay from April 7 to April 11. Proceeds from the auction will be donated to one of William's charities. The highest price ever paid for a Pez dispenser is reportedly $32,000. Speaking of eBay, the widely-believed story that the site was started as a way for Pierre Omidyar's fiancee to trade Pez dispensers is not correct. The Pez myth was started by a public relations manager to draw press interest.
• The Telegraph ran a lengthy profile of Kate a few days back. Apparently, she's perfect. Kate excels at everything and charms everyone in the process. One of her teachers, who described her as an A-grade pupil, said: "You might imagine someone like her would attract a degree of jealousy and bitchiness from other students. Not so. She was universally liked and to top it all she was a joy to teach. Quite sickening, really." The largest transgression the paper could find was that she mooned the boys' dorm in high school.
• One group of Brits that may not be wild the about royal nuptials are aspiring lawyers. To become a barrister in the U.K. (what we call a litigator in the U.S.), one has to be admitted to the bar by one of four Inns of Court, or legal societies. As part of their training, law students can spend a year training with one of these societies. The cost is about £15,000 ($24,000). But because of the later-than-usual day off for Easter Monday (April 25) and the wedding holiday on April 29, financial aid decisions for two of the Inns will be made after the student pledges to study with them, The Lawyer reports. In what can only be described as a lawyerly answer, Christa Richmond, one of the barristers responsible for financial aid decisions said: "We are of course aware that holding the [financial aid interviews late] is very far from being an ideal solution and thought long and hard about possible solutions, but in the end it was the least bad of all workable alternatives."
Read More
Filed Under: