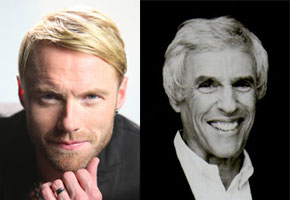 Stereoboard reports that Ronan Keating has come together with famed American songwriter Burt Bacharach for a brand new album. Talk about "Something Big," yeah?
When Ronan Met Burt, which marks the Boyzone singer's seventh solo offering, will be released on March 21. The 10-song set was recorded with a full orchestra and will showcase Keating's interpretation of such Bacharach classics like "Walk On By" "What the World Needs Now is Love" and "I Just Don't Know What to Do with Myself."
The chart-topping Irish singer, who is a judge on the Australian X Factor, stated on his official site that collaborating with Bacharach, one of his longtime idols, was "a dream come true."
"I grew up listening to his songs and the tracks we've chosen to record for the album are simply some of the greatest pop masterpieces ever written, so it was an honor to sing them alongside the man himself," Keating said.
Bacharach added: "To do these songs with a different slant and approach on them made it very interesting for me. And too be able to work with Ronan and expose these songs to maybe a younger audience as well as my fan base. Then to be able to record it in the legendary Capitol recording studio — full orchestra live. Quite a trip we were on Ronan."
Here's some vintage Boyzone for your Wednesday afternoon:
Read More
Filed Under: