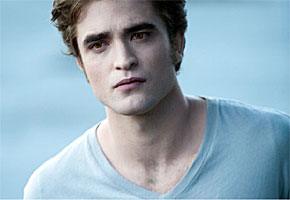 Twilight fans, be careful. Some of the information within this news story might make you want to rush to wherever Robert Pattinson might be, and offer him a great big hug. Some of you probably already want to do that. But the thing is, you can't, and here's why.
It seems the intense reaction he's been getting since the first Twilight film came out has meant that he's essentially homeless, as he's scared that any home he sets up will immediately be broken into by souvenir hunters.
He told The Sun: "I'm afraid of buying a house or anything — the best way to deal with it is just to move around all the time."
And that's why he has taken to a nomadic existence, from hotel to hotel, hoping to keep out of the way of either rabid fans or worse, people who want to attack him.
"I'll be walking down the street and people will be like, 'f*** you'," he said "and I get a lot of people wanting to beat me up. Men in bars and stuff. I just leave."
So, if you do happen to come across poor Robert in a social situation, do leave him be. Your hug, no matter how well-intentioned, could be the last straw.
Are stars getting too sensitive? Tell us here.
Read More
Filed Under: