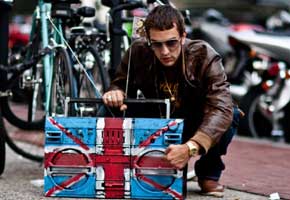 Ah yes, the return of Richard Ashcroft. The ex-Verve frontman has a new band and new collection of songs under the United Nations of Sound moniker, the latter of which dropped in the U.S. last Tuesday (March 22).
And now that he's back on stage, Ashcroft has a strong message for all the naysayers who've gone against him in the past. Watch out, he might get all Godfather on you.
"People who have crossed the line with me will one day feel my f***ing wrath, trust me," Ashcroft told The Sun. From there, the lanky English singer/songwriter said he was "like Frank Sinatra, like Michael Corleone." You tell 'em, Rich!
United Nations of Sound marks Ashcroft's follow-up to his third solo effort, 2006's Keys to the World. He and his former Verve bandmates — guitarist Nick McCabe, bassist Simon Jones and drummer Pete Salisbury — issued a host of standout singles and EPs plus four studio albums, including 1997's Urban Hymns with guitarist/keyboardist Simon Tong, during their tumultuous two decades together. They reunited in 2007 sans Tong to release Forth, but called it quits for good in 2009.
In case you missed it, Ashcroft also paid a visit to Late Night with Jimmy Fallon last week for a solid performance of "Are You Ready?" (and "This Thing Called Life" for the website) alongside Fallon's house band, The Roots.
Read More
Filed Under: