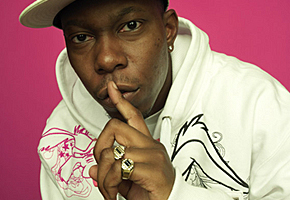 Rappers do like to be seen to be doing brave things, don't they? Flexing their muscles, growling, bragging about their astonishing party-starting abilities, it all comes with the MC territory.
But when it comes to being a brave rapper, nothing compares to risking your personal dignity at the hands of the men who created The Inbetweeners, surely? These are, after all, people who have asked their actors to walk a catwalk in shiny underwear, with certain intimate parts of their anatomy hanging out, or stand naked on a boat in a harbor.
So let's be upstanding and raise a hand in firm salute to UK rapper and general cultural ambassador Dizzee Rascal, who is currently in talks with Damon Beesley and Iain Morris — the creative geniuses in question — to create his very own sitcom.
A TV insider told The Sun: "Urban artists are usually portrayed in negative or bleak circumstances but they want to do something different. Dizzee is a big personality with loads of charisma and the writers think he would be the ideal subject for the show. It's just a question of whether or not he has the acting ability to pull it off."
Here's Dizzee performing "Bonkers," his theme song.
Which rapper do you think should be given a sitcom? Tell us here.
Read More
Filed Under: