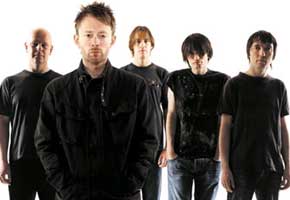 No one does it like Radiohead. They're seriously the smartest band ever. As we already know, the English fivesome sent the blogosphere into a tizzy last month when issuing the digital release of their eighth studio album, The King of Limbs, a day early. Now, the band will sate fervent fans once again with a free newspaper!
As revealed via Radiohead at Ease, The Universal Sigh newspaper, totally created and produced by the band themselves, will coincide the physical retail release of The King of Limbs, which drops worldwide next week. Starting Monday (March 28), this (Extra! Extra!) special rag will be available in select cities across Europe, while the U.S. will have to wait until Tuesday (March 29). Who knows what's inside, but Radiohead confirmed that it won't match the contents included with "Newspaper Album" coming out May 9.
"This newspaper IS NOT the newspaper that accompanies the Newspaper Album version of The King of Limbs. This event WILL NOT be repeated. This event IS NOT a live performance by Radiohead."
For a complete list of cities, newspaper locations and times, check out The Universal Sigh site.
Will you pick up The Universal Sigh?
Read More
Filed Under: