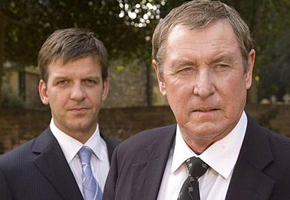 Midsomer Murders producer/co-creator Brian True-May did an interview with the Radio Times in which he defended the lack of ethnic diversity in his rural England-set detective drama. Today (March 15), his controversial statements have resulted in his suspension from his show's production company and a sharp rebuke from the network ITV.
"We don't have ethnic minorities involved," True-May told Radio Times. "Because it wouldn't be the English village with them. It just wouldn't work. Suddenly we might be in Slough… And if you went in to Slough you wouldn't see a white face there. We're the last bastion of Englishness and I want to keep it that way." (Slough is the most ethnically diverse area of England outside of London.)
He added: "I'm trying to make something that appeals to a certain audience, which seems to succeed. And I don't want to change it."
ITV, the network on which Midsomer Murders airs in the UK, released a statement via a spokesman: "We are shocked and appalled at these personal comments by Brian True-May, which are absolutely not shared by anyone at ITV.
"We are in urgent discussions with All3Media, the producer of Midsomer Murders, who have informed us that they have launched an immediate investigation into the matter and have suspended Mr. True-May pending the outcome."
Airing since 1997, the popular series has followed DCI Barnaby through his investigations of heinous killings in the small towns and villages in fictional Midsomer. The show returns Wednesday in the UK with its longtime star John Nettles replaced with Neil Dudgeon, who plays the cousin of the original DCI Barnaby.
True-May's comments have drawn support in some corners. The Daily Telegraph's Cristina Odone writes, "In his defense, Brian True-May, the creator of Midsomer Murders — now suspended, needless to say — argued that the series depicts English village life as it is, rather than it ought to be. But in an industry that jealously guards its right-on image, this is tantamount to sticking two fingers up at the bosses. True-May doesn't seem to understand that it is up to the media to create a version of rural life that matches their worldview."
Representing a different view, The Stage's Scott Matthewman writes, "There is an argument, I suppose, that the Midsomer world is lost in time anyway: take any episode, and cars and mobile phones are the only items likely to date it to a specific year. It is an old-fashioned series set in an old-fashioned world, and any sense of realism goes out the window when you realize that more people have been killed in the sleepy hollow of Badger's Drift than could ever have lived there in the first place.
"But the fact remains that the series is set in the present day, and while Home Counties villages may have a predominance of white residents, having some residents who do come from ethnic minorities does not make those villages any less English."
Where do you fall on the spectrum: do you agree or disagree with Brian True-May's comments?
Read More
Filed Under: