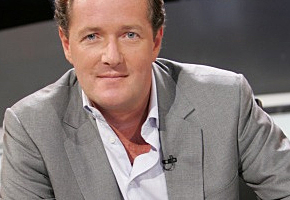 Piers Morgan can't be devoting all of his time and attention to his CNN chat show, if recent reports about the special guests he's got lined up for the British equivalent — Piers Morgan's Life Stories — are anything to go by.
One guest in particular should provide a very interesting debate, if not a full-blown argument: young master Russell Brand, who will be appearing on the hour-long show later on this spring.
The Daily Star reports that Russell is confident that Piers won't get under his skin, and make him "sob like a baby."
No doubt the topics under discussion will include his controversial presenting stints for the MTV Video Awards, his sudden exit from BBC Radio 2 (known locally as "Sachsgate"), his relationship with Katy Perry, being a movie star, his various addictions…all the stuff covered in his two autobiographies, basically, and everything that has happened since.
In fact, it's hard to see how they can cram it all into one hour, especially as Russell is hardly minimalist in his use of expressive language. And we all know how much Piers likes a good row.
Who's bringing the popcorn?
No seriously, who's bringing the popcorn? Tell us here.
Read More
Filed Under: