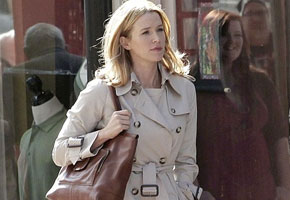 A few weeks ago, we heard about the new, unauthorized JK Rowling made-for-Lifetime biopic titled Magic Beyond Words: The JK Rowling Story, starring Without a Trace actress Poppy Montgomery. Well The Daily Mail has released some first-look photos of the Aussie star filming scenes as the Harry Potter author. Even in a crumpled mackintosh and a dowdy floral pattern skirt, Montgomery cuts a glamorous path through Vancouver (posing as London).
Montgomery told Access Hollywood that she's been studying Rowling's native UK accent and has been wearing blue contact lenses for the role. The actress also reveals that she'd "turn into a puddle of water" if she ever met Rowling. Erm, maybe because Rowling didn't give her approval to the project?
http://www.youtube.com/watch?v=bWqMA3adMrU
Some behind-the-scenes footage of the shoot:
Click here for more photos. What do you think of Poppy Montgomery as JK Rowling?
Read More
Filed Under: