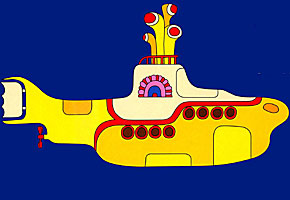 The film director Robert Zemeckis (Back To The Future, Forrest Gump) is today shopping for a new studio deal for his remake of the Beatles film Yellow Submarine, after Disney Studios have opted not to fund it.
The Hollywood Reporter is reporting that despite an agreement with Apple Corps over the use of 16 remastered Beatle songs (which is usually the hard bit in any Beatle negotiation, as iTunes will tell you), Disney no longer feels confident that the film will pay back their investment in it.
The plan was to remake the film in 3D, with the voices of Cary Elwes, Dean Lennox Kelly, Peter Serafinowicz and Adam Campbell as the Fab Four, and using the same kind of motion-capture effects as used in previous Zemeckis animations such as Beowulf and A Christmas Carol.
There had been some disquiet about this, because these techniques can give human characters a somewhat disturbing demeanor. The word the Hollywood Reporter uses is "creepy", and it's hard to think of a less Beatley thing to be, so you can sort of see Disney's point, even though clearly they are the Blue Meanies in this situation.
Nevertheless, these worries, plus the relatively low turnout for A Christmas Carol, and an overly-postponed meeting with Beatle representatives — including Sir Paul and Lord Ringo — together with the less-than-overwhelming public response to Robert's current film Mars Needs Moms (only $6.9m taken in its opening weekend) has given Disney cold feet.
And we all know what color cold feet are, don't we? Uh-huh.
Here's Peter Serafinowicz proving his credentials as a one-man Beatles.
Did anyone need a remake of Yellow Submarine? Tell us here.
Read More
Filed Under: