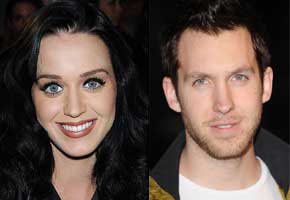 Uh oh, Katy Perry is pretty furious with Calvin Harris. Earlier this week, the American pop starlet took to Twitter to announce that the Scottish dance-pop DJ won't be the opening act on her current UK and Ireland tour. The dude supposedly dropped out at, like, the eleventh-hour over the stage setup.
"@CalvinHarris will NOT be joining in on the fun and has CANCELLED last minute," Russell Brand's missus tweeted in disappointment.
From there, Perry and Harris hashed it out a bit, with Harris apologizing profusely to his fans. "Sorry to all who wanted to see me with Katy," he wrote. "Her team suddenly moved the goalposts and I was to appear on stage with no production."
The "Firework" singer quickly swiped back, "The goalpost seems to be perfectly fine for New Young Pony Club, Yelle, Robyn, Marina & The Diamonds, to name a few. Or how bout Janell[e] Monae and her 16 piece band… It's fine, I'm used to you canceling on me. It's become ur staple!"
Poor Calvin. The guy seems genuinely sorry for the swift change in plans. He went on to explain that he "didn't intend to cause offence or upset anybody," but his performance would have "sounded sh**" had he kept with the original stage plans.
In other music news:
– Upon issuing their free Universal Sigh newspaper worldwide this week, Radiohead has another prezzie for us. The "Supercollider"/"The Butcher" single will drop on 12-inch vinyl for Record Store Day on April 16. (Radiohead at Ease)
– The lovely Adele continues her reign over the pop world with her stunning sophomore effort, 21. So much in fact, the "Someone Like You" songstress has topped the UK album charts for nine consecutive weeks. The last artist to do this was Madonna, who in 1990 ruled with her greatest hits compilation, The Immaculate Collection. (BBC News)
– If you've already shelled out some serious dough for this summer's Glastonbury or Bonnaroo festivals, you might want to double-check your pockets or the couch for some extra change because you're going to want to see Muse in the UK in August. The English stadium rockers are set to play their brilliant 2001 LP, Origin of Symmetry, in its entirety at both Reading and Leeds. (NME)
– Beady Eye frontman Liam Gallagher may have just over 210,000 followers on Twitter, but he's not really an avid fan of those 140-word updates. The English scalawag says he only likes to use it when "someone's got it majorly long or barking up the wrong tree." He honestly thinks it's "rubbish." Come on, Liam, don't be such a hater. (Absolute Radio)
– Will Ray and Dave Davies ever resolve their issues? A proper Kinks reunion is at stake. Well, Dave says it's up to his big brother. C'mon guys! Let's do this! (The Guardian)
– Natasha Bedingfield wants to sync up with Tinie Tempah for a duet, 'cos "collaborating with artists is [her] thing." Sounds like perfect match to me. (Digital Spy)
Read More
Filed Under: