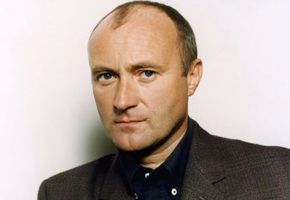 It seems that there's been some misunderstanding surrounding Phil Collins' recent retirement. As we reported last Friday (March 4), FHM magazine said that the 60-year-old English musician would like to give his body a proper rest after decades of drumming, yadda yadda yadda. But earlier today (March 8), the Genesis star took to his official website to set the record straight.
"Greetings to all, I've decided to write this in response to the articles that surfaced last weekend regarding my retirement," Collins stated. "Why they were printed at all is a mystery, as I haven't spoken to anybody in the press for a few months."
He added: "However, many of the articles printed over the last few months have ended up painting a picture of me that is more than a little distorted. Therefore, I would like to add my comments and try to explain again my reasons for calling it a day."
From there, Collins goes on to say that unfavorable press reviews are not to blame for his departure. He absolutely loves his fans and is completely grateful for their unwavering support. Plus, this isn't about not fitting in with the current pop mainstream. At the end of the day, Collins just wants to be "a full time father" to his two sons, Nicholas and Matthew. He'd like everyone to know that he's not some "tormented weirdo who thinks he was at the Alamo in another life."
Um, thanks for clearing things up, Phil.
In other music news:
– As we mentioned on Monday (March 7), George Michael has taken on New Order's 1987 standout, True Faith, for Comic Relief. Pretty slick stuff. We dig! What do you think?
http://www.youtube.com/watch?v=eF4hEhAcSCw&feature=player_embedded
– Watch out, Coldplay. Mumford & Sons rule supreme! With Sigh No More, the British folksters have just surpassed Chris Martin & Co.'s 2009 record for "selling a million copies of one album in both the UK and U.S." Woo hoo! They're also hitting the road with Edward Sharpe & the Magnetic Zeros and Old Crow Medicine Show this April for the six-date Railroad Revival Tour. Together, they'll travel and perform shows in vintage railcars. Sounds about right! (NME)
– Having already wowed the UK with her enchanting folk-tinged electro-pop, Ellie Goulding finally brings her debut album, Lights, to the States this week. The "Starry Eyed" singer, who is currently burning up the BBC Radio 1 charts with Tinie Tempah's "Wonderman," is already eyeing album No. 2. "It's started to sound very dark and very weird," she said. "This album is going to be even more emotional — I'm all about emo. Captain emo over here! I wanted to make it so there is hope. I want to make an effect whether it's happy or sad." (DeanPiper.com)
– Veteran space rock act Spiritualized have inked a new North America recording deal with Fat Possum Records. Jason Pierce is also gearing up for a proper follow-up to 2008's Songs in A&E, but we'll have to sit tight for the title and tracklisting details. That's how Pierce does it, y'know? (Consequence of Sound)
– Anglophenia hearts Yuck! The English indie quintet just issued their critically-acclaimed self-titled debut last month, but frontman Daniel Blumberg is already hard at work on a solo project. According to a press release, the London-bred songster will make his live debut under the Oupa moniker at SXSW this month. An album is slated to follow in June.
– As we anxiously await the Arctic Monkeys's fourth album, the good news is that the British indie rock foursome will embark on a U.S. tour this spring. Oh yeah, they've leaked a raucous new track called "Brick By Brick." Brilliant!
What are you listening to this week?
Read More
Filed Under: