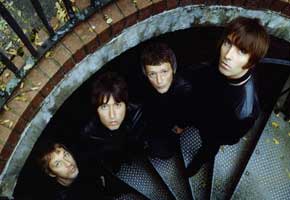 Don't look back in anger, Oasis fans. I know, when Noel Gallagher left the band in August 2009, that was pretty hard to take. But Liam Gallagher is still here, creating a proper rock 'n' roll ruckus with Beady Eye. And their long-awaited debut, the Steve Lillywhite-produced Different Gear, Still Speeding, arrives stateside today via Dangerbird Records.
Daily Telegraph music critic Neil McCormick says, "Beady Eye's debut may break no new creative ground and make no discernible contribution to the future of popular music but it has a jeu d'esprit almost entirely absent from Oasis over the past 10 years."
When speaking to The Quietus, both Liam and guitarist Andy Bell maintain that Beady Eye is as solid as you're going to get. There's no post-Oasis drama lingering in the wings. It's about the music, pure and simple. We can certainly get with that.
"Beady Eye is a democracy and we all bring in ideas and we all bring in songs and of course we have complete freedom," Bell explains. "That's the thing that has to be mentioned in comparison to Oasis. That doesn't mean that we didn't have freedom in Oasis because we did. The dynamic in Beady Eye is really healthy."
Gallagher adds: "We're all doing what we want to make this band great down to the album cover, our interviews, our videos, our tunes and we just fall into it. It's a band and that's what I like. We're all watching each other's backs. If it fails then we'll all carry that weight but if it becomes a big success then we'll all rejoice in that."
"The Roller":
"Four Letter Word" (From Zane Lowe's Live in Session on BBC Radio 1):
In other music news:
– Anna Calvi brings her sultry self-titled debut to the U.S. this week. The London-born musician, who also landed on The BBC's Sound of 2011 list, is part PJ Harvey and part Nick Cave, but with a dash of Siouxsie Sioux. We absolutely adore her. The "Blackout" single is out later this month.
http://www.youtube.com/watch?v=-VtMmedjt2I&feature=player_embedded
– Our thoughts and prayers are with Poly Styrene, who recently revealed via Twitter that she has been diagnosed with cancer. The legendary frontwoman of the English punk group, X-Ray Spex, remains in good spirits and tweeted: "Hoping & praying I can fight this cancer. Thank u all 4 ur positive vibes, I'm overwhelmed, ur keeping me in the land of living Luv Poly X." Generation Indigo, her new album produced by Killing Joke's Youth, is out April 26. Be sure to check out the tasty electro-rock of "Virtual Boyfriend." Viva Poly!
– New York-based post rock experimentalists Battles have called upon English new wave icon Gary Numan to appear on their forthcoming sophomore effort, Gloss Drop. The "Cars" singer will lend his robotic vocals to "My Machines." (NME)
– U2 is finally heading to Glastonbury. The Edge confirmed their Pyramid Stage slot for Friday, June 24 while attending the Shockwaves NME Awards last Wednesday (February 23). The Grammy-winning foursome were originally slated to headline the 2010 jaunt, but were forced to bow out when Bono injured his back. (Q)
– Speaking of UK music festivals, Arctic Monkeys and Eminem top the bill for the 16th annual V Festival this August. Also fleshing out the lineup are Primal Scream, Dizzee Rascal, Ellie Goulding, Tinie Tempah and Jessie J. (BBC Newsbeat)
– …And speaking of Jessie J, the British pop singer will make her U.S. television debut as the musical guest on Saturday Night Live on March 12. Awesome! Maybe B.o.B. will join her for "Price Tag?" (The Metro)
– Can't wait for the April 12 release of Elbow's Build a Rocket Boys? Get a sneak peek of "Open Arms," "With Love," "Neat Little Rows," and "The Night Will Always Win." (The Guardian)
– Glasvegas's second set, EUPHORIC /// HEARTBREAK \, drops in the U.S. on April 4. Here's a hint of what's yet to come from the Scottish outfit, the new video for "Euphoria, Take My Hand." (A Heart Is a Spade)
What are you listening to this week?
Read More
Filed Under: