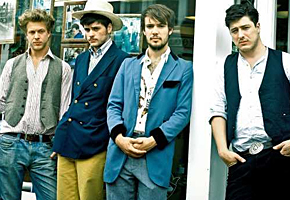 Mumford and Sons have revealed a very old-fashioned, fan-friendly approach to finding out which of their crop of new material deserves a place on their as-yet-unrecorded second album. The band have been touring incessantly ever since their debut, 'Sigh No More', first hit the shops, and they've used the opportunity to sneak a few new songs in here and there, and assess how well they go down.
It might sound like a crazy idea in this age of YouTube uploads and cameraphones at every concert, but Ted from the band is adamant that this is the best way to be sure that they're on the right track.
He told Xfm's Eoghan McDermott: "We really love the idea of involving our audiences in some way."
"That's how we did 'Sigh No More'. We did it live, the songs were played in front of crowds, they evolved in front of an audience. We're quite intent on doing that again for the second album. It feels like a logical way to work out what you want to record."
And it's not as if they haven't got the tunes to choose from. Ted revealed they've been spending a LOT of time working on new material recently, even going so far as to hide away on a remote farm, to try and grow a new album out of the soil itself (or something).
Ted explains: "We were in Nashville, just before we did the Grammys and the Brits, just holed up in a farm house for seven days just writing. Just the four of us and it was the most incredibly fruitful time."
Now, if anyone has seen the footage of Mumford at the Brits, there's one member of the band who looks like they've spent maybe a bit too long being fruitful in Nashville. See if you can spot him.
CLUE: It's not Marcus, or Ted…or Ben.
Would you like more of the same from the Mumfs or something new next time? Tell us here.
Read More
Filed Under: