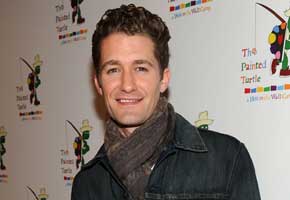 The Glee guest star list is pretty impressive at this point, don't you think? We've seen Gwyneth Paltrow, Britney Spears, Neil Patrick Harris, among many others, showcase their talents on Fox's award-winning musical dramedy. But if Matthew Morrison a.k.a. Will Schuester has anything to say about it, there are two Brits in particular that he'd like to see make a cameo on the show.
Morrison recently told The Metro that he'd love to have an episode special featuring "Someone Like You" singer Adele.
"I love Adele," Morrison said. "'Turning Tables' is one of my favorite songs right now. I don't know if she's an actress but I'd love to hear her music on 'Glee'."
The 32-year-old actor/singer gushed some more about the chart-topping Londoner, adding that he would be extremely "honored" to work with her outside the TV realm, too. This May, Morrison will release his debut studio album, which features a duet with Sir Elton John on a medley of "Mona Lisas and Mad Hatters" and "Rocket Man."
"Working with Elton is like watching David Beckham play soccer," Morrison explained. "It's like watching someone do what they do. He's such a student of music. He's so smart with music and he knows so much."
But what about bringing the new Dad to McKinley High? Morrison would definitely like to see it happen. "I think it would be a really funny storyline if Elton and Sue Sylvester started dating."
Earlier this year, John stated that he hadn't received an invite to appear on the show, but shortly thereafter he and show co-creator Ryan Murphy reportedly sat down to discuss possible plans.
Would you like to see Adele and Sir Elton John on Glee?
Read More
Filed Under: