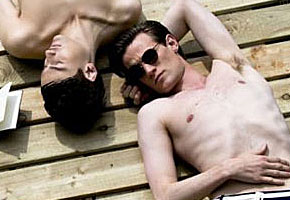 Doctor Who star Matt Smith briefly stepped out of the TARDIS to play author Christopher Isherwood for the BBC period film, Christopher and His Kind. The movie airs in the UK tomorrow night (March 19), but we've already learned that a North American DVD release is forthcoming later this spring.
Smith has relished taking on a role so different from the Doctor: an openly gay writer exploring his sexual and political identity in pre-war Berlin. "He's primarily so fascinating because he's a brilliant writer," Smith told BBC News.
"But not only that, he's a brilliant writer who was gay in a certain era of Britain, where it was difficult to be gay. And I suppose his journey is just very interesting."
He adds: "Going to Berlin really opened his eyes."
"It wasn't only a sexual awakening for him. But very much a political one, when you read his novels, particularly The Berlin Diaries and Christopher and His Kind — they're so informed with his time in Berlin.
"His identity changes. His perspective. His values. And this manages to encapsulate that, I hope. And I think it captures a period that is very interesting, the burgeoning presence of Nazism and things like that are dramatic. Harrowing, but dramatic."
Whovians, take note: two other Doctor Who stars, Lindsay Duncan (The Waters of Mars) and Toby Jones (The Dream Lord in Season 5), appear in Christopher and His Kind. Duncan plays Isherwood's mother, and Jones portrays journalist Gerald Hamilton.
Watch clips from the film below.
Read More
Filed Under: