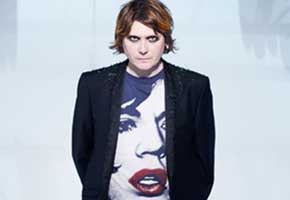 POTENTIAL SPOILER ALERT: For those still squealing over Doctor Who's April 23 season premiere on BBC America, we have a couple of related news bits to sate your excitement.
According to Digital Spy, Nicky Wire recently revealed to BBC Radio 2 that his long-awaited Doctor Who script is still in the works. The story is apparently about the late Welsh poet Dylan Thomas and his "last few days in New York."
"Doctor Who (sic) has to serve him his last drink to kill him and obviously Doctor Who's a pacifist so it's a tough one," the Manic Street Preachers bassist explained.
Wire went on to say that fellow Welshman Michael Sheen — who has a cameo in the band's "(It's Not War) Just the End of Love" video — would be ideal for the part.
"Also, we're doing something with Michael Sheen in April, he's recreating a passion play in Port Talbot and he's asked us to write something for it. Of course Michael Sheen could play Dylan Thomas perfectly."
Hooray! We like the sounds of that. We are also thrilled to hear (via Digital Spy) that Gavin & Stacey star James Corden will make his show return as "Craig Owens," previously seen in the 2010 episode, "The Lodger."
Counting… down… the… days!
Read More
Filed Under: