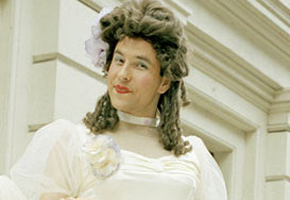 Whovians: take note! More news is starting to filter out about some of the special guest appearances in the new series of Doctor Who, and one name in particular has jumped out, especially if you're a fan of Little Britain.
David Walliams has signed up to play an alien called Gibbis in a story called "The God Complex," which was created by Toby Whithouse, the man who created Being Human.
It's not clear if this unholy alliance of TV brands will see David playing a vampire transvestive with a moustache, or a werewolf looking for a pirate memory game (actually, it is clear, he won't), but he has told Doctor Who Magazine that he's very excited to be making his Who debut: "I am a huge fan of Doctor Who and am so looking forward to working with Matt Smith and running up and down some corridors with him."
As we've reported before, Gavin And Stacey's James Corden will also make a re-appearance in the new series, possibly battling Cybermen, and Nicky Wire from the Manic Street Preachers is working on a script about the Welsh poet Dylan Thomas. Oh, and supermodel Lily Cole will be involved in a swashbuckling adventure on the high seas, possibly not involving pirates playing a memory game.*
The new series starts on BBC America on April 23rd.
* If you've never seen Little Britain, do not worry, just trust us that these jokes are AMAZING.
Which of these almighty treats are you most excited about? Tell us here.
Read More
Filed Under: