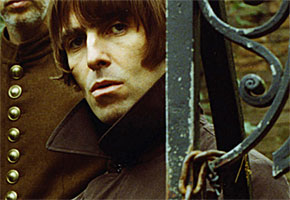 You know that gag people always throw around about the British having bad teeth? It worked for the Austin Powers franchise, it worked for Family Guy, and it seems to have had such a devastating effect on one of the UK's biggest rock star exports that he's decided to do something about it.
Former Oasis star Liam Gallagher — a man who is not normally known to care overmuch about what people think of him — has apparently spent £7,000 (just over $10,000) to have his teeth fixed so that they will be more — don't giggle — "American friendly."
This astonishing news comes courtesy of the Daily Mirror, who have found an insider within Liam's new band Beady Eye who is willing to say this: "Liam wasn't quite at the Shane MacGowan stage but his teeth were pretty dodgy. Beady Eye is a big deal for Liam and he felt under pressure to look his best for his musical comeback."
And, brilliantly, this: "He knows his teeth have never been his strong point, so decided now was the time to get them done. Liam had a place recommended to him, and booked in for a consultation. A few weeks later he went for it, having his grey fillings replaced with white ones, and some veneers put in for a more even look."
Here's Liam with Beady Eye, in what we must presumably now call his pre-op days…
Which Brit celebrity has the worst teeth you've ever seen? Tell us here.
Read More
Filed Under: