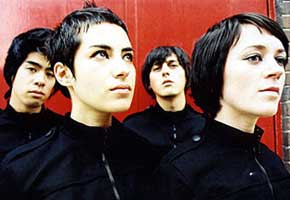 Best music news of the day! Liverpool-born electro outfit Ladytron will soon release a new album, NME reveals!
Gravity the Seducer, the band's first set of new material behind their very sexy 2008 LP, Velocifero, will drop September 13 via Nettwerk. Ladytron co-produced Gravity with Simon "Barny" Barnicott, whose engineering and mixing credits include Arctic Monkeys, Kasabian, Stereophonics, and Turin Brakes.
"Ace of Hz," as heard on their killer Best of Remixes collection released earlier this month, will also be included. And if you haven't gotten a chance to check out their Best of 00-10 effort yet, it's pretty solid.
Here's some standout Ladytron for your Thursday afternoon:
Read More
Filed Under: