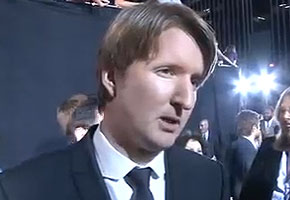 When you've won a Best Director Oscar for your first major film, which itself won Best Picture, what do you do for an encore? Do you snag your Best Actor-winning star Colin Firth for a victory lap? Or do you tackle the first true film adaptation of one of theater's most difficult and beloved musicals — in a time when most movie musicals have flopped spectacularly?
No one can claim Tom Hooper is not up for a challenge. The British King's Speech director is in talks to do Les Misérables as his big follow-up, Deadline reports. Sir Cameron Mackintosh, the man behind the iconic 1985 London production of the musical, has signed on to co-produce with Working Title, and they aim to begin production in Europe before 2011 ends. Universal Pictures will oversee the film, in hopes that it will become another cash cow like their hit, Mamma Mia. The film is expected to attract an A-list cast.
The Les Miz musical, adapted from Victor Hugo's 1862 novel of post-French Revolution upheaval, has gained some cachet in recent years after Susan Boyle captured the world's attention with her rendition of "I Dreamed a Dream" on Britain's Got Talent. Who will be the next star to take on the musical's showstopper? (Patti LuPone played Fantine in the London production, with Randy Graff taking on the role on Broadway. Any ideas?
Read More
Filed Under: