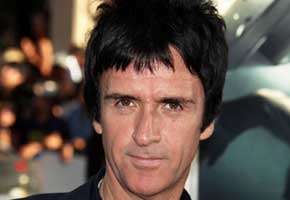 Having spent the last few years working with the likes of Modest Mouse and The Cribs, ex-Smiths guitarist Johnny Marr will soon get back to his own stuff.
Billboard.com reports that the English musician and songwriter will drop two new albums over the next year and a half. In 2003, he issued Boomslang under the Johnny Marr and the Healers moniker. The group included Ringo Starr's son and longtime Who drummer Zak Starkey and Kula Shaker bassist Alonza Bevan.
"With the Cribs not working I've been writing a lot on my own," Marr said.
While Marr didn't divulge any details on whether or not he'll appear on the next Cribs LP, he did confirm that he and German composer Hans Zimmer will sync up sometime soon. Marr lent his talents to Zimmer's Oscar-nominated score for Christopher Nolan's Inception.
Between that, the new tunes, and his forthcoming memoir, when does Marr have time to sleep? The guy also mentioned on Twitter on Monday (February 28) that he'll be hitting the road this fall. Dates and locations are currently are unknown.
In April 2001, Marr took part in Neil Finn's legendary "7 Worlds Collide" shows at the St. James Theatre in Auckland, New Zealand. Here's his solid performance of the Boomslang track, "Down On the Corner":
Read More
Filed Under: