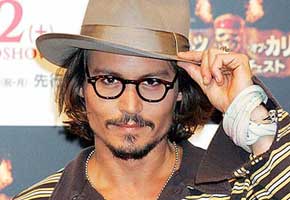 Seriously, all that fuss over Ricky Gervais' cleverly cutting delivery at the 2011 Golden Globes in January seems like ages ago, doesn't it?
For one Hollywood actor, it's all water under the bridge, for BBC News reports that Johnny Depp is slated to appear in the British funnyman's forthcoming new BBC2 sitcom, Life's Too Short. The mysterious Pirates of the Caribbean star obviously wasn't put off by Gervais' sly critique of The Tourist. Heh.
The news only gets better. Apparently, the show is "a cross between U.S. comedy Curb Your Enthusiasm and Gervais's previous show, Extras." Sounds brilliant, right? As for Depp's part, no details have been revealed, but Warwick Davis, as seen in the Harry Potter films, will portray an "ego-maniac head of a talent agency for other little people." The series will air in the U.S. on HBO. Woo hoo!.
Gervais, who already has six episodes in the can with longtime writing partner Stephen Merchant, took to his This Side of the Truth blog this week to confirm this juicy news. But one guy that won't be showing up alongside Depp is Jerry Seinfeld, contrary the blogosphere rumor mill.
"The Depp bit is true. The Seinfeld isn"t," Gervais stated.
Hey, we'll at least get to see the American comedian in Gervais' forthcoming HBO special, Talking Funny, which is set to air on April 22.
Read More
Filed Under: