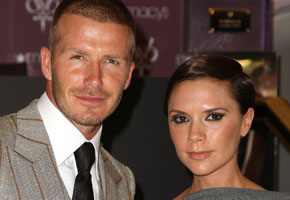 If you bet money that David and Victoria Beckham would keep mum on the gender of their shiny new fetus, you'll be paying up right about now. Over the weekend, Goldenballs himself revealed that his Posh Spice wife would finally deliver a baby girl to their all-male brood in July. Speaking about Victoria's condition, David told reporters (via BBC Newsbeat): "She's great, she's very healthy. She's feeling good. We're very excited. It's an exciting time for the family."
The Beckhams will be in attendance at next month's royal wedding (April 29) between Prince William and Kate Middleton. Afterwards, they plan to head back to the States for the new baby's birth.
Any name suggestions for the little baby girl? Isabella, Emma, Olivia, Sophia, and Ava were the most popular girls' names last year. How about Queen Victoria II?
Read More
Filed Under: