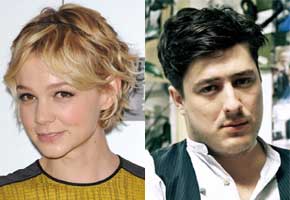 Now that spring is here, romance will soon be in full bloom for some. But it looks like a new love may already be taking shape for Carey Mulligan and Mumford & Sons frontman Marcus Mumford.
According to The Daily Mail, the 25-year-old English actress is reportedly "besotted" with the 24-year-old folkster after hanging out together in Nashville last month.
"Marcus invited Carey to watch him play a secret show in the basement of his friend Mike Harris's home in Nashville," said a source. "She sat in the front row and while he was singing Marcus looked down at Carey and she blushed. It was clear they had chemistry. Afterwards they went to the City House restaurant and dined with friends but they sat together and acted like a couple."
A "close friend" also revealed that Mulligan and Mumford have been "spending time at Marcus's London home in Shepherd's Bush." They previously escaped to Scotland's Orkney Islands for a quick holiday.
Mulligan seems to be living it up since her October 2010 split from Shia LaBeouf. Just last month, the Doctor Who star was seen holding hands with British actor Eddie Redmayne in New York City. She and Tom Sturridge also spent some time together last fall. Mumford used to date English singer/songwriter Laura Marling.
Read More
Filed Under: