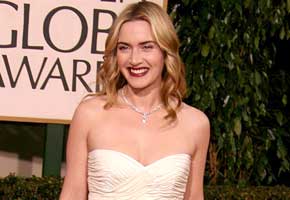 Once wrapping a movie, viewing the final result isn't exactly one of Kate Winslet's favorite things to do. I suppose that's pretty understandable, right?
"I always wanted to be an actress for as long as I can remember, and I'm incredibly fortunate that my career has turned out the way it has," the Oscar-winning beauty, who is currently starring in the HBO mini-series Mildred Pierce, recently told the British celebrity gossip site Female First.
"I watch my films once, and that's it," Winslet added. "The experience of making a movie is far removed from watching the end result. It's exciting, but it still makes me squirm."
In other Winslet news, Entertainment Weekly reveals that the 35-year-old English actress will release a book in support of autism awareness. Out this November via Simon & Schuster, The Golden Hat draws from Winslet's connection with a non-verbal autistic boy named Keli Ericsdottir and his poem about "a hat that enables an autistic boy to communicate with others." Photographs featuring a host of hat-wearing celebs, including Jude Law, Ricky Gervais and Margaret Thatcher's film doppelganger Meryl Streep, will also be included.
Read More
Filed Under: