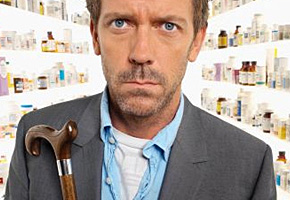 Some people are so ridiculously talented it is positively sickening. Like Hugh Laurie, for example. Astonishing comedian (Blackadder, A Bit of Fry & Laurie), astounding actor (House), fantastic buffoon (Jeeves & Wooster) and now master bluesman. It's just horrifically unfair, isn't it?
He's even recorded an album, called Let Them Talk, which features contributions from New Orleans legends such as Allen Toussaint and Dr. John, together with another enormously-talented UK export, Sir Tom Jones.
Launching it with a live concert in New Orleans this week — in front of a select audience that included his former colleague Stephen Fry — Hugh neatly sidestepped any criticism that he might not be the first person you'd think of when making a list of essential blues masters, with this self-depreciating quip: "I've never eaten grits, cropped a share, or ridden a boxcar. No gypsy woman said anything to my mother when I was born and there's no hellhound on my trail, as far as I can judge."
"Let this record show that I am a white, middle-class Englishman, openly trespassing on the music and myth of the American south."
And just in case this feels a little sudden, like that whole Joaquin Phoenix "I'm a rapper" thing, Hugh was at pains to explain the depth of his passion, to the extent that he comes across a little like a one-man Blues Brothers (only without the shades and car chases). He went on: "I could never bear to see this music confined to a glass cabinet, under the heading 'Culture: Only To Be Handled By Elderly Black Men.'"
"That way lies the grave, for the blues and just about everything else: Shakespeare only performed at the Globe, Bach only played by Germans in tights."
Disabled American doctors in hit TV shows only played by disabled American actors…I mean can you IMAGINE?
What's your favorite Hugh Laurie moment? Tell us here.
Read More
Filed Under: