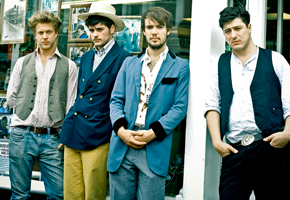 Last week, something quite amazing happened: UK artists held the top 3 spots on the Billboard Hot 200 chart for the first time in a quarter-century. Adele was No. 1 with her 21 album, followed by R&B singer Marsha Ambrosius (formerly of the neo-soul duo Floetry), with folksters Mumford & Sons trailing the both of them. Yes, the last time the stars were so aligned, MTV's schedule was still dominated by music videos instead of Jersey Shore and knocked-up teens, and Dire Straits, Sting, and Tears For Fears occupied the peak positions. So why has this feat been repeated now?
NME's Tim Chester believes that Adele and Mumford & Sons' successes are in line with previous "British Invasions": they both devoured popular U.S. music styles and fed it back to us. "[M]aybe Adele's love and blend of American R&B and gospel, spun with just a twist of British charm, is what endears people to her (while her choice of producers, from Ryan 'Kelly Clarkson' Tedder to Dan 'Dixie Chicks' Wilson, probably helped). And perhaps it's Mumford's gleeful appropriation of Appalachian folk — and their tight relationship with Bob Dylan — that makes them so appealing…"
He also notes that both Adele and the Mumfords have bust their behinds touring and doing promo (including the chat show circuit) here, which provides a stronger explanation for their recent breakthroughs. It's a commitment and requires work ethic beyond what many artists are willing to put in, especially ones who are already spoiled with fame and fortune in their native country. (See Girls Aloud, Robbie Williams.)
The question? Will the success of Adele and the Mumfords provide a 2010s template for newbie Brit bands wanting to storm the biggest music market in the world? And does one have to sacrifice an innate sense of Britishness to do it?
Read More
Filed Under: