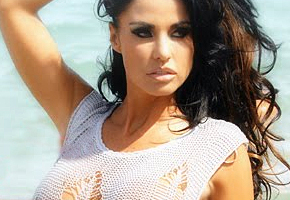 Anyone who saw the E! reality series following Katie "Jordan" Price and her then-husband Peter Andre will know that she is someone whose ambition knows no bounds. So it's definitely going to be champers o'clock in the Price household this week, now the news has leaked that she's about to present her own reality TV series. And for once, it's not a fly-on-the-wall docu-soap about her own life. This time, other people are involved! I know!
Katie's been traveling to Los Angeles for screen tests to be the presenter of a new show called Make Me A Hunk, in which she takes a weedy fellow, like Sheldon from The Big Bang Theory, and transforms them into a muscular super-hero…like Sheldon from The Big Bang Theory wearing his Flash costume.
The Daily Mirror is even claiming there's a $1.3 million contract in it for her, and they've also got an insider to offer their thoughts on the topic: "It is a huge deal for Kate and she is thrilled. It is the biggest gig of her career to date and the first time she will have fronted a TV show."
They went on: "American networks love all things British at the moment. They feel viewers will warm to Kate's-larger-than life personality and blunt put-downs – although producers were startled at how sarcastic and rude she was to the guy in the pilot episode. But it worked, she toughened him up and worked her magic."
Apparently the show is being fought over by three rival networks, ABC, E!, and CW, a bidding war which can only end well for Katie's eventual pay packet.
Incidentally, did you know what Katie did for Comic Relief this year? This:
It's OK, I can't think of anything to say either.
Would you like Katie Price to make you into a hunk? Tell us here.
Read More
Filed Under: