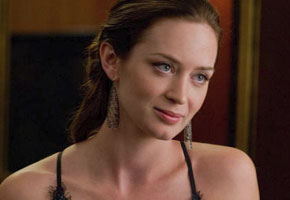 Emily Blunt makes quite the entrance, slinking out of a stall in a men's room, clad in a satin ball gown and clutching a bottle of champagne, in her latest film, The Adjustment Bureau. The enjoyable, sci-fi romantic thriller opens Friday (March 4).
Not that Blunt needs to make an entrance. The talented British actress has already very definitely arrived. She has offered a dizzying array of performances in films both big (The Devil Wears Prada) and small (Sunshine Cleaning), though after a fast-out-of-the-gate start seven years ago, her career has proved wildly uneven.
Blunt, now 28 years old and wed to John Krasinski (a star of the U.S. version of The Office), first made waves in 2004 with her debut film, My Summer of Love. Despite the cheesy title, the drama was an intriguing look at two teenage girls, one rich and pampered (Blunt) and the other poor and uneducated (Natalie Press), who find that opposites attract, at least for a season. Blunt, with her almond-eyed sensual beauty and self-confident languor, made critics (especially the male ones) sit up and take notice. "Emily Blunt might well have it in her to be the new Keira Knightley," wrote Peter Bradshaw, reviewing the film in The Guardian.
The Devil Wears Prada (2006), her next film to be released theatrically in the U.S., made her a star. Blunt's hilariously funny, attention-getting performance as a snippy assistant to Meryl Streep's fashion magazine queen bee put the London-born actress at the center of Hollywood's radar. Yet she followed up Prada with either supporting performances in high profile studio movies (Dan in Real Life and Charlie Wilson's War) or co-starring roles in indie ensemble films (The Jane Austin Book Club, Sunshine Cleaning, and The Great Buck Howard).
More power to her for choosing roles that required her to act rather than merely pose and look pretty while collecting a big paycheck. It gave her a chance to stretch. If she had immediately gone the Hollywood leading lady route, she would likely have found herself appearing in sub-par romantic comedies (is there any other kind these days?) and in girlfriend roles opposite male action stars, where she'd show up briefly in a few scenes to prove the hero was heterosexual.
In 2009, Blunt finally signaled that she was ready to carry a movie on her own: she played the title role in The Young Victoria, a biopic about England's longest-reigning monarch. Her iron-and-lace portrayal of a young woman coming into her own earned her several best actress nominations at awards time, including one for a Golden Globe. (She actually took home a Globe in 2007 for her role in BBC America's made-for-TV film Gideon's Daughter.)
She followed Victoria with a mixed bag of disappointing films in 2010, appearing in the howlingly inert The Wolfman, an uneven British indie comedy called Wild Target, and the big budget comedy flop, Gulliver's Travels with Jack Black. Last month, she provided the heroine's voice in an animated comedy, Gnomeo & Juliet, though she said in a BBC Breakfast interview that she had to conquer her fear of garden gnomes before taking the part.
If Adjustment Bureau turns into a hit – the movie is fun, sort of Inception sans the multiple levels gobbledy-gook – it could help to establish Blunt as a go-to leading lady in Hollywood. What's not clear is whether she actually wants that.
A quick look at the films on her docket for this year and next would seem to indicate that the answer is no. Up next: a new Muppets movie and three lower-budgeted efforts from decidedly non-mainstream directors. It would seem that for Blunt, the quirkiness of a role takes precedence over its (and the movie's) size.
http://www.youtube.com/watch?v=FHVU3fKhsjI
What's your favorite role or movie with Blunt?
Read More
Filed Under: