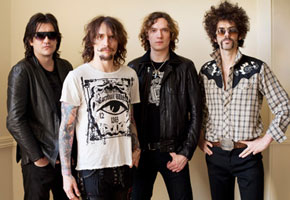 This is either great or dreadful news, depending on your musical tastes: one of the most popular Brit bands of the mid-2000s, The Darkness, have reformed after splitting five years ago, reports BBC Newsbeat. The Suffolk-based quartet, helmed by their oft-shirtless pistol of a frontman Justin Hawkins, wore David Lee Roth hair and powered out glam rock influenced by Queen and Slade. (Oh, and Sparks.) Their claim to Stateside fame was their high-pitched 2003 hit, "I Believe in a Thing Called Love," with its oh-so-'70s video.
The band is set to record a new album over the next couple of months, and in June, they'll support British hair-metal forebears Def Leppard at the Download music festival in England. Hawkins says, "[I]t's the most rockest of festivals and the perfect place for us to begin the next phase of our journey."
Here's a blast from the past: Justin Hawkins on a 2005 episode of Top Gear, looking a bit like he hadn't slept in days but still sharp as an icepick:
What do you think: how much does music need The Darkness right now?
Read More
Filed Under: