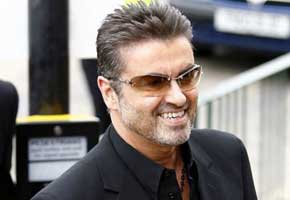 With his brief prison stint finally behind him, George Michael is speaking out about his experience while gearing up for a return to music.
BBC News reports that the ex-Wham! singer recently paid a visit to BBC Radio 2's Chris Evans Breakfast Show to discuss his July 2010 arrest for being under the influence of cannabis and crashing his Range Rover into a London photo shop, as well as his early release from jail last October.
"I know people think it must have been a horrific experience, but for me, I think it's much easier to take any form of punishment if you actually believe you deserve it, and I did," Michael said. "There's no question about that."
He added: "I am honestly someone who was brought up with such a principal of do unto others that this was a hugely shameful thing for me to have done repeatedly. So karmically, I felt like I had a bill to pay. I went to prison. I paid my bill. I hope that whole period of my life where I think I was a bit lost is over for good."
Michael went on to divulge details about his robotic-like cover of New Order's 1987 UK hit, "True Faith," a Comic Relief charity single that drops on March 14. He explained that the idea came to be just mere hours after regaining his freedom, when he and his friends were watching VH1.
"I suddenly heard the lyric for the first time for what it was — what fantastic lyric about addiction," Michael explained. "I just thought 'how perfect would that be.'"
To check out the first part of the interview, click here. Part two will air on Tuesday (March 8).
And nevermind those ridiculous rumors about Michael and his longtime partner, Kenny Goss, splitting up. It's all bollocks and Michael took to Twitter to dismiss The Sun's claims. "They r trying to overshadow my apologies I presume…" he tweeted.
Read More
Filed Under: