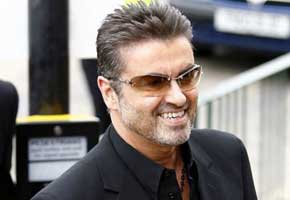 I have to say it's really nice seeing George Michael back out there again. His new song, a robotic cover of New Order's "True Faith," has hit the UK charts. And wasn't his recent Comic Relief spoof with Gavin & Stacey's James Corden absolutely hysterical?
Now, it seems that the British singer/songwriter has a second single in the works, as Michael shared via Twitter earlier today (March 24).
"Hey everyone two things to titillate the loyal, just finished new single, Produced with @stereogamous..called Every Other Lover In The World," he wrote. "Full on house track, hope u are all ready…."
Oh, we're totally ready, mate. And we couldn't be more excited to hear that Michael is gearing up for his first proper tour in quite sometime. His monumental 25 Live tour, which spanned 41 countries over the course of two years prior to concluding in December 2008, was initially thought to be his his last big go around. He went on to play three concerts in Australia in 2010.
"Just to clear it up, never said I was giving up, said it was the last ARENA tour people…which it was," Michael added. "Have some amazing venues lined up, not your usual arena tour, something way more special…:)"
Ooooh, perhaps he'll hit the club circuit? Either way, we can't wait!
Read More
Filed Under: