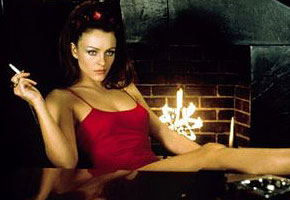 Continuing the British Invasion of both television and the superhero genre, British model-turned-actress Elizabeth Hurley has been cast in the David E. Kelley reboot of Wonder Woman for NBC. Not as Wonder Woman herself: that role, of course, has been snapped up by Friday Night Lights star Adrianne Palicki. No, according to UGO, Hurley will play Veronica Cale, the vicious yet elegant "corporate rival" to the show's heroine.
Ms. Hurley has worn her badass shoes before: she literally played "The Devil" in that Brendan Fraser comedy Bedazzled back in 2000. Perhaps Liz will dial it back a few notches to play Veronica Cale.
Earlier this morning, Hurley tweeted: "Thrilled to be doing the NBC pilot Wonder Woman. I'll be playing the evil villain. Can't wait." Seems like Liz is ready to play naughty again. We can't wait.
Read More
Filed Under: