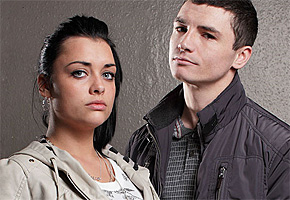 There is a lot of hooey talked about actors and their method for researching how to portray certain situations realistically. Sometimes it can seem a bit voyeuristic or vampiric for a celebrity to descend into someone's life, suck all the interesting stuff up and then swan off to their million dollar life, unaffected and very content.
But you've got to feel for young Jody Latham, who plays rotten Rob Grayson in EastEnders, when he went off to research for his role as a pimp and sex-trafficker. It's part of a collaboration between EastEnders and Comic Relief, one which aims to shine a light on a very dark problem.
In the soap, Rob wins the trust of confused teen Whitney Dean, before effectively kidnapping her and trying to force her to become a prostitute. And in order to find out how that situation works, Jody spoke to three young girls, all of whom had been in a similar situation.
He told The Sun: "I arranged to go to a drop-in centre where prostitutes go to hide away from their pimps. It felt horrible being there, looking in on their lives and knowing I could walk away and they had to continue with that really tough life."
"It was heartbreaking. I was not prepared for their horrific stories, I couldn't believe what these poor women go through in real life."
And as for the swanning-off-content thing, well that didn't happen either, as Jody explains: "I felt so sad for these women. I went home that night and I'm not ashamed to admit that I cried."
"This is a huge issue and I wanted to do the storyline justice. I had to research it – but it is one of the most difficult things I've ever done."
Should soap operas be tackling these kind of topics? Tell us here.
Read More
Filed Under: