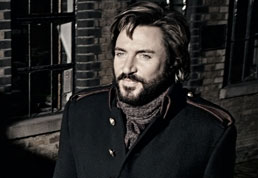 Do you ever find yourself reading a new story in an internal monologue which rises in incredulous pitch with each passing word? Yeah, us too.
And here's a perfect example. Duran Duran are live streaming a concert from the Mayan Theatre in Los Angeles tomorrow. It'll be on the video sites Vevo and YouTube, and will be a very theatrical affair. And the reason we know it'll be theatrical is the entire gig has been directed by David Lynch.
Yeah, you read that right, David Lynch. THAT David Lynch. David "David Lynch" Lynch. Amazing.
The show is being streamed to promote the band's latest album "All You Need Is Now", which features guest contribitions from Kelis, and was produced by Mark Ronson. And in addition to David's direction, both performers have now helpfully agreed to turn up on the night.
Digital Spy has a report which quotes Duran's singer Simon Le Bon as saying: "It really means a lot to the band that both Kelis and Mark Ronson are able to join us for this show."
He went on: "Mark is making a Herculean effort to be here – flying in specially for the night – which is typical of his generosity and the enormous support he has shown us on the "All You Need Is Now" project throughout."
As for Mark himself, he chipped in with this: "How could I have missed this? Playing live with one of my favorite bands of all time and being a part of this concert film with David Lynch, it's a true honor."
True honor, or strange dream brought about by too much cheese before bedtime? You be the judge…
Should Spandau Ballet ring Tim Burton for some help? Tell us here.
Read More
Filed Under: