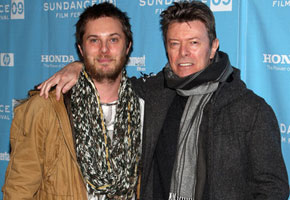 Filmmaker Duncan Jones — who's busily promoting his new science-fiction action thriller Source Code, out next week (April 1) — told me he'd like to collaborate with his father, who happens to be David Bowie, in a future film project.
But 39-year-old Jones claims that any possible joint venture with his father probably wouldn't involve music: "I would rather work with him as an actor to be honest, if hopefully we ever get to the point where we get to do that. The reason I would wait is [that] I would want to be the director that is able to be supporting of an actor like him. I really want to be a better director so that when I do get the chance to work him, there's nothing that he feels he's missing out on, and I can answer any kind of question or concern he might have."
Jones received considerable critical acclaim when his first sci-fi feature Moon, starring starring Sam Rockwell, was released two years ago.
The low-budget Moon made a big impression on Hollywood leading man Jake Gyllenhaal, who headlines the cast in Source Code. Jones recalls how Gyllenhaal sought him out:
The affable Jones is fascinated by science fiction — but he's an enthusiast for cinema of all kinds. Inspiration partly came from his father who introduced him to several iconic movies:
Was there every any career guidance that the elder Bowie gave to his son? Duncan Jones remembers one piece of advice: "He told me when I was a teenager that you need to find the thing that you feel passionate about, and that's a gift and a curse because it took me a really long time to really feel confident that I knew exactly what I wanted to do. But now that I got there, I mean, I very much appreciate that advice because if you can find that thing, it means the world."
Trailer for Source Code:
Tom Brook's reports on cinema can be seen every Tuesday and Thursday morning on BBC America.
Read More
Filed Under: