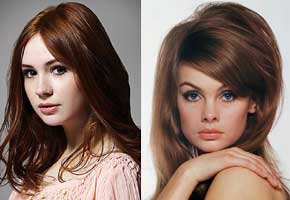 BBC News reports that Karen Gillan, who portrays the Time Lord's current companion, has signed on to play English model Jean Shrimpton in a forthcoming film on BBC4.
We'll Take Manhattan will showcase "The Shrimp" and her affair with British photographer David Bailey, while drawing from a 1962 Vogue photoshoot in New York City. Filming is slated to begin in May.
"Jean Shrimpton is an icon of the Sixties and I am so excited to be playing somebody who had such a lasting impact on the fashion world, the 23-year-old Doctor Who star said in a BBC press release. "I can't wait to take on the challenge of bringing Jean and Bailey's fascinating love story to life. Sixties here I come!"
Shrimpton and Bailey were regular fixtures on the '60s Swinging London's scene. The ginger-haired model is considered to be one of the world's first supermodels. She appeared on the covers of Vogue, Harper's Bazaar, and Glamour on numerous occasions, as well as Time, Cosmopolitan, and Vanity Fair.
Read More
Filed Under: