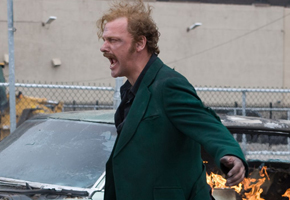 With three of his films set for release in the next six months, this is shaping up to be a good year for 46-year-old actor Ray Stevenson, who grew up in England.
Stevenson, who's probably best known for his role as Titus Pullo in the HBO/BBC series Rome, will be seen first in Kill The Irishman out in select theaters today (March 11).
The actor dominates the screen as the Irish-American mobster Danny Greene, the so-called Celtic warrior, who was a formidable — and almost invincible — presence in Cleveland's underworld in the 1970s. Some see the film romanticizing Greene as a Robin Hood-style criminal. But Stevenson doesn't agree: he feels the movie is presenting the man just as he was.
The actor will also star in a 3D version of The Three Musketeers out in the autumn, but before that, he takes on the role of Volstagg in the eagerly-awaited big-budget adaptation of the superhero comic book movie Thor. The film stars recent Oscar winner Natalie Portman, and it's directed by Kenneth Branagh.
Stevenson has won acclaim for some of his previous work and gives a solid performance in Kill The Irishman, but critics writing for entertainment industry publications can't quite agree what to make of him.  Variety described him as "oddly charismatic" — while The Hollywood Reporter found his screen presence as "curiously uncharismatic." Audiences have yet to decide.
Tom Brook's reports on cinema can be seen every Tuesday and Thursday morning on BBC America.
Read More
Filed Under: